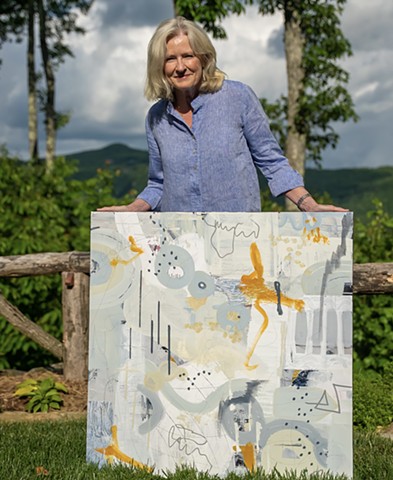 It all started with a painting class with friends. I just wanted the social interaction but what I got was an obsession! With a background in interior design, the discovery of working with infinite color combinations and texture was just too enticing. I have never looked back. And after a stint studying in New York City, my love for abstract art was confirmed.
As a "recovering perfectionist", I rarely have a plan when I begin a painting. Instead, I relish choosing colors and diving right in. I paint intuitively and spontaneously; something akin to a "call and response". Mixing up the style of my paintings from organic and calm to geometric and colorful lends freshness and freedom to my work. Feeling a compulsion to paint, I realize that I can never plumb the depths of the limitless possibilities of line, shape and color. The problem-solving nature of painting presents a continual challenge, yet paradoxically elicits in me a sense of peace and calm.
It is my hope that my paintings will bring joy and wonder to the viewer as I seek to reflect my Christian faith throughout my life and my art.